Are you hunting for the best travel coffee makers because you love to spend time in a tent in the woods? Maybe you're a detective on a stakeout in your car for days on end. Perhaps it's your dream to take a month and drive through Alaska to places with no hotel room in sight? Or, like many people, maybe you just like darn good coffee when you travel, and a motel drip maker and powdered creamer just aren't going to cut it.
Whatever the reason, you might be amazed at how many on-the-go coffee-making options you have these days. We cover coffee and can't believe how many new products come out almost every week. So, even though we're taking time to cover some of the best travel coffee makers right now, we might need to update this post regularly!
by Lu, Spillin' the Beans
Jump to:
Travel Kettle and Coffee Sticks
Mini Espresso Machine Combination
Travel Kettle and Coffee Sticks
I'm starting out with one of the simplest ways to make coffee on the go. It includes a modern variation on instant coffee called coffee sticks. And trust me; they're much better than the old freeze-dried coffee granules!
But coffee sticks aren't enough if you don't have hot water access, so here's where things get a bit controversial (haha!).
USB Required
I searched and searched for travel kettles with a USB plug. That way, you're covered if your car has a hookup. You can also plug it into a laptop or into the wall with an adapter.
There are numerous shopping lists, top 10 lists, and other ads for "travel kettle with USB connection."
>> Don't believe any of them!
An Old-School Alternative
Those listings (at least in March 2023, anyway) are misleading. The kettles come with 110/220-volt plugs and not USB cords.
Yes, you can get a travel kettle with an old car lighter adapter. But USB is a different story.
SMRTMUGG Ultra-Fast Heating
Fortunately, I found a solution, albeit a slightly more expensive one than originally intended. It's the SMRTMUGG Heated Coffee Mug with an all-day battery.
Don't let the name fool you, as it's more than a mug to keep your java hot. This mug comes with "ultra-fast heating technology" and will heat cold water in less than 10 minutes. Yes, it sounds like a long time, but you can do that in the comfort of your car!
Hot Water? Check! Coffee Sticks? Check!
I won't spend too much time on coffee sticks, as there's a blog post with some recommendations (and some below). But they're an excellent way to get your caffeine fix anywhere you have hot water. Today's coffee sticks (at least the quality ones) are made with micro grounds and mimic the traditional brewing process.
AeroPress Go – Espresso-Like Coffee
It's similar to a French Press, but you can even buy an attachment and make AeroPress espresso with crema!
An AeroPress Go is an ideal travel coffee maker, as it's designed that way – even though many people rely on their handy-dandy AeroPress daily for their at-home brew.
You'll appreciate that it's inexpensive, easy to use, and produces low-acidity coffee.
French Press-Mug Combo – Best Travel Coffee Makers – All-In-One
Put some coarse ground coffee in the bottom of your travel French Press, and you're ready to brew anytime you've got access to hot water.
All you do is pour hot water into the mug with the grinds, wait four minutes, and press. Then, Presto! Your hot fresh brew is ready to drink and will stay hot for quite a while.
Want more? Rinse and repeat!
VacOne Battery-Charged Air Brewer
An air brewer? Yup! The VacOne travel coffee maker works on the go and can also be your go-to home brewer.
So, here's the scoop.
You charge the brewer with a USB cable, and it's good for about 100 brew cycles. Cold brew in four minutes, hot coffee in seconds, or use a 3:1 coffee:water ratio of fine ground, and you can also make expresso.
It's a quick method, and no electricity is required. While it's not the cheapest option, it's the most diverse and one of the best travel coffee makers you'll find.
Blue Bottle Coffee Dripper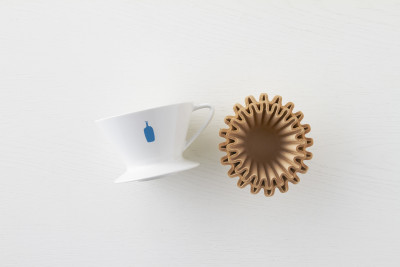 Blue Bottle Dripper with Blue Bottle Coffe…
Our signature dripper and 90 filters in one convenient set [More]
Blue Bottle's proprietary coffee dripper does double-duty as a travel coffee maker and pour-over system for home use. It makes a delicious brew, especially if you splurge for Blue Bottle beans. However, it's not the best all-around choice, as it's got more parts and pieces – filter required.
You put a filter in the unit and position it on your cup. Then, slowly pour your near-boiling water over the grounds. No electricity is required, and clean-up is easy, but the set-up is a little bulkier than you might prefer. However, if you're setting up for camp for a week and have room for supplies, check out Blue Bottle's website.
Travel Moka Pot – Best Coffee Maker for Camping
When you're out under the stars, you don't want to fiddle around with technologically advanced coffee-making systems. What you need is a good aluminum espresso maker that goes on your campfire – preferably from Italy!
Bialetti makes an entire line of Moka pots in different sizes and colors. But I chose the one-cup travel version as it's the most compact.
However, if you're brewing for a crew, there are six, nine, and 12-cup options.
Espresso Machine Combination – The Luxury Option
Before I get into the nitty-gritty, let me just say that Seven and Me's Espressor isn't a coffee maker for camping or for inside your car. It needs electricity and a few more supplies than coffee sticks or a travel French Press.
However, I have to include it as it's an awesome option if you've got a monthly rental, a summer home, or are checking into a hotel for a few weeks.
Compact & Cool!
This little unit is only 11″ x 9″, so it won't take up much space in your bag or on the countertop. The cool thing about it is it uses a Moka pot for coffee and allows you to froth milk simultaneously.
If you're a hardcore coffee enthusiast or need a gift idea for one, the Espressor isn't a necessity, but it's pretty darn cool!
Other Coffee Content You Might Like